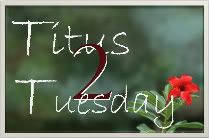 Thank you Lord for my friend Diane Farmer, who is my featured Titus 2 woman. 
Likewise, teach the older women to be reverent in the way they live, not to be slanderers or addicted to much wine, but to teach what is good.  Then they can train the younger women to love their husbands and children, to be self-controlled and pure, to be busy at home, to be kind, and to be subject to their husbands, so that no one will malign the word of God.  Titus 2:3 - 4 
Thank you Shanda at
A Teachable Heart
, there you will find other testimonies of Titus 2 women, reaching out into the lives of others, so that no one will malign the Word of God.
My mind is flooded with all the things to tell you about Diane, I'm having a hard time getting them organized, I'll start with the beginning.  I first met her through the Walk to Emmaus community.  She is a musician and there was just something about her, I love to listen to her sing and more than that, I love watching her worship God in music.  She is one of those ladies that decided to pick up the guitar and teach herself how to play after the age of 40, maybe even closer to the age of 45.  She is married to Matt, and the mother of Ashley and Kristen.  We have always enjoyed talking about our Kristen's.  
She and Matt minister to the youth in their community, they are the youth directors in their church and they are always looking for ways to encourage and lift them up.  Ready to listen and always on their knees.  She and Matt also pull a trailer that houses a clean bathroom and washer/dryer to disaster areas.     
She was a big part of my sanity when I had the opportunity to be God 's clay vessel through the role of lay director for a walk in November of '08.  She had been in that position two years prior and lead by the Holy Spirit, she would pick up the phone at just the right time to check on me.  
She has shared her home, her food, her testimony, her wisdom, and her calm encouragement with me and she would share what ever you needed with you, as well.  
She had a dream about me one night, she said she couldn't remember the dream exactly, she thought it had something to do with me and my kids, but the next day she said, "every time I would think of that dream, I would wonder why did I dream about Jerri Ann and I would pray for you."  We hadn't talked since the walk in November.  Turns out it was the same day that I was giving my testimony at a women's ministry dinner at my home church in May.  How about that!  She is my sister in Christ and even though we don't talk often, we still have that tie.  The fact that the Holy Spirit would bring me to her heart during her sleep and she would be on her knees for me the next day brings me a sense of peace and love directly from the Father's heart through the heart of one of His daughters for me.  Amen.  
If you do not know this love that God has for you, I urge you to turn your face towards Him, and ask Jesus into your heart.  He came for sinners, not for judgement, to give us grace, peace, salvation, hope, mercy.  No matter what you have experienced in this life, Jesus loves you so much that he spread His arms wide open and laid on the cross for you.
She is one of those women whose is an amazing wife, mother, daughter, and friend. And she is a beloved child of the King.  
I am afraid I have not done her justice with this writing, but I promise, if you met her you would love her too.