This week's assignment was catalog hack.  Boy when I saw that I knew I was in trouble.  This was going to be hard for me, I've never hacked the catalog before.  Hacking evidently means to copy something from a catalog like Ballard's or Anthropology or Pottery Barn etc.  
So, I searched the pages on each of these sites and settled on a lamp from Anthropology.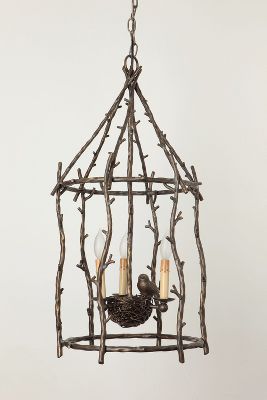 Cute.  And super expensive too $798.00  yep that's right.   I have a friend that has made some super cute lampshades lately but I haven't looked close enough to see the mechanics of what she was doing (I think I better go visit her) and I wanted to use what I had here.  So, with that said, 
and keep in mind I was aiming high....
and I'm not through trying my hand at this,
yet.

okay don't laugh too hard,
Oh lardy, this was not good.  In the "Spirit of Keeping It Real" here is my first try.

Man I was just a working that thing.  I was folding down all those little wire pieces and wrapping in them around and thinking ........... "this is going pretty good"  and   "I wonder if anyone will want one?"  and maybe even a thought like,  "wow I'm
gooood
".
Not willing to give up I found some left over wire cloth from construction and used it.  It is much nicer than the hardware chicken wire I started with but I have a this gnawing feeling it was much more expensive, too.  
It was hard to keep it together, it sat like this for a while, I had to ponder what to do next.  I kept thinking sew it.  I fought that temptation in the earlier rendition so this time I tried it.
I grabbed my twine and threaded it through the wire using the blanket stitch.
I love that stitch, it's one of my favorites.  For some reason it reminds me of my grandmother, Nanny.  She used to make quilts and my favorite was the one with the silhouette of the little girl in her dress and bonnet.  Anyway, it had that stitch on it and I have just always associated it with her. 
You can't really see it but that's what I did.
It was looking pretty good so far and I began to feel some confidence 
and then ........
I got the bright idea.  Yep, another one.  You think maybe I should start to notice that when these bright ideas come up I should squash them down?  
Naw
 not me, I like to live dangerously.  
So that's when I picked up the burlap.  You know the traditionalist in me couldn't just stop with a wire lamp shade - no, must have stuff.  
I had this piece of burlap laying there and I wondered out loud to myself cause I live in the country and if I'm gonna talk to anyone I have to talk to myself, it's okay I only answer occasionally.
Actually I wasn't flying completely on my own .  I was in the big city earlier this week and stopped by my friend's shop.  She has this fabulous shop I should do a post on that sometime (check - future post) anyway, she has a fabric shop with some antiques scattered around, some painted furniture pieces and things for your home.  She has this new lamp in that I am drooling over and I got to studying the lamp shade, it had these little silk ribbons stitched in a random pattern on it and it was fabulous.  So this is a take on that.  A bad take - but a take on it none the less.
The thought was to make burlap ribbon ruffles.  So I found my string, began pulling and tied a good knot to keep it from pulling through.
I just noticed that I did not have any pictures of the results but you get the idea, I'm sure.  Just think of
squigeley
ruffley
burlap
ribbony
things. 
I put them on the shade in random patterns kind of following how they were going on their own.
Yea, I'm showing close up pictures first, because from here it looks pretty good.  
One thing.  Before I show the last just remember this was 
wwwaaaaayyy
 out side the box for me.  
One little
dangley
 thing.  
So there you go.  Catalog Hack.  I think the catalogs are safe from me.  
I'm linking up with them, they may need to know this stuff.